White porcelain dinner plates are one of the first choices for home tableware. And in this article, we will discuss in depth the application of white porcelain dinner plates, bulk sales company, customization processes and other related topics.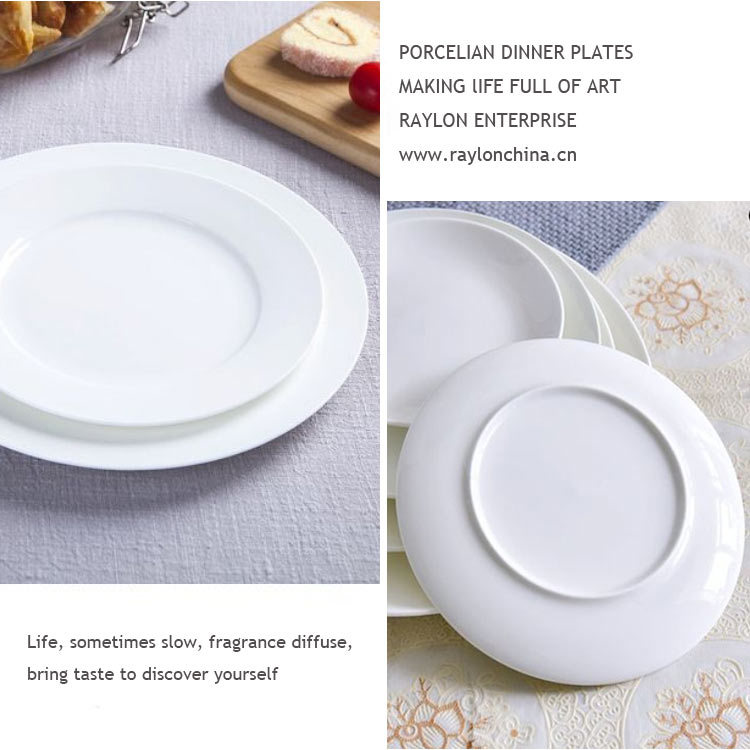 Application of Porcelain Dinner Plates:
White porcelain dinner plates are widely used in various occasions due to their elegant appearance and practicality. Here are some common application for porcelain dinner plates:
⚪Home use: White porcelain dinner plates have an elegant and simple design style, suitable for home use. Not only can they serve delicious food, but they can also be used as part of home decoration.
⚪Restaurants and Hotels: Porcelain dinner plates are one of the most common tableware in restaurants and hotels. They are suitable for both formal and informal occasions and demonstrate a high standard of catering.
⚪Celebrations: Whether it's a birthday party, wedding or other celebration, these plates are ideal. Customize dinner plates to fit the event theme will add a unique atmosphere.
⚪Business meetings and events: In business meetings and events, people often use the dinner plates for serving refreshments and lunches, in order to enhance the professionalism and quality of the event.
⚪Personalized customization: According to your needs, we can print your logo, company name or specific patterns on the plates to display a unique personality or brand image.
Video:
Bulk Sale Company Strength
When choosing a white porcelain dinner plate bulk sale company, it is very important to understand its comprehensive strength. So here are some key factors you need to consider:
★Production Capacity: Does the supplier have the ability to mass-produce white porcelain dinner plates? Do they have advanced production equipment and technology? These factors will directly affect your ability to obtain enough inventory to meet your needs.
★Material quality: Usually use high-quality raw materials to make porcelain plates. Does the supplier use raw materials that meet your requirements? Do they have a strict quality control system? The answers to these questions will help you determine the quality level of your supplier.
★Design capabilities: Excellent suppliers should not only have production capabilities, but also have strong design capabilities and be able to provide a variety of styles and designs to meet different occasions and needs. You can check whether they have a professional design team and whether they can provide satisfactory design solutions.
★After-sales service: A trustworthy supplier should provide comprehensive after-sales services such as order tracking, product replacement, and quick response. This will help solve problems you encounter during sales and use.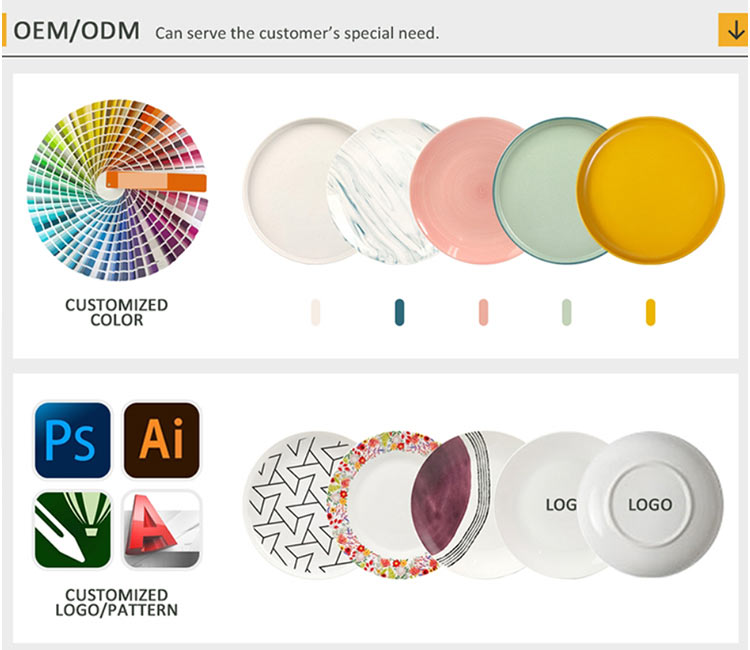 Customization Process of Porcelain Dinner Plates:
When purchasing white porcelain dinner plates in bulk, you may want to customize some of the details to better suit your needs. Here is a basic customization process:
First, you need to clarify the number of white porcelain dinner plates you require, size, color, and any other special requirements (such as printing/engraving, etc.). You can provide your own design concepts or work with the supplier's design team to create a unique design solution. We will produce according to your design concepts and requirements. At this stage, please stay close work to ensure that problems in the production process are resolved in a timely manner. We'll conduct strict quality inspections on the products to ensure that all products meet your requirements.
For more details, kindly check Dinnerware Customization