Ceramic dinnerware sets are heat-resistant and highly resistant to chips and cracks. Today we will introduce the new arrival cost-effective hand-painted dinnerware sets.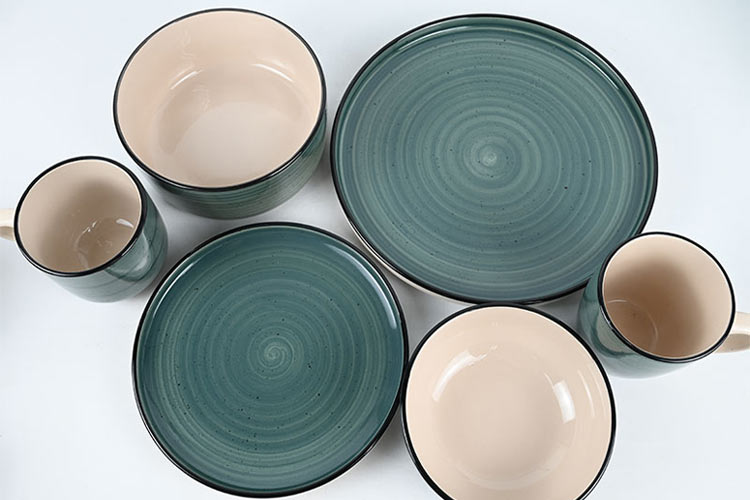 Types and Designs of Hand-Painted Dinnerware Sets:
⚪Traditional Patterns and Motifs
Traditional hand-painted dinnerware sets often feature timeless patterns and motifs that evoke a sense of nostalgia. Thus, these classic designs bring a touch of elegance and sophistication to any table setting.
⚪Contemporary and Modern Designs
For those looking to add a modern twist to their dining experience, contemporary hand-painted dinnerware sets offer a fresh and vibrant approach, which can bring a burst of energy and playfulness to the table.
⚪Customization services
One of the great advantages of hand-painted dinnerware is the ability to customize and personalize your set. And, many brand merchants request specific designs, monograms, or even custom illustrations.
Introduction to the Raylon's New Arrival Hand-painted Dinner sets:
This is a collection of steep rim hand-painted dinner set with speckled design. The steep rim adds an elegant touch to each piece, while the hand painted speckled design adds a touch of whimsy and charm.
Details of the new design hand-painted dinner sets:
☆Spinwash
☆Irregular shape
☆Food contact safety
☆Dishwasher & microwave safe
Sizes:
Dinner plate: 26.5*2.8cm
Side plate: 20.3*2.4cm
Soup Bowl: 16.5*7.2cm
Cereal bowl: 14.6*6.2cm
Mug: 8.8*10.3cm
Cup: 9.3*8.4cm
There are totally three colors of this sets: Blue, Lime and Rose.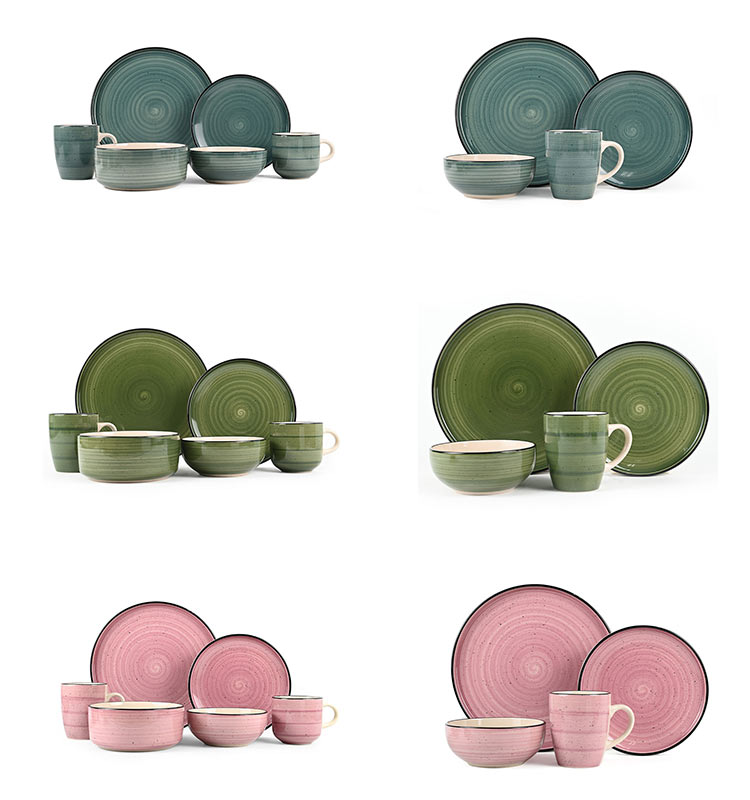 Ceramic dinnerware sets are widely used in households and commercial settings, making it essential to meet safety and quality standards. Certification and testing procedures help to ensure that the tableware is free from any harmful substances, such as lead or cadmium, and meets the necessary durability and performance criteria. These tests typically include assessments of thermal shock resistance, surface abrasion, chemical resistance, and heavy metal content.
Looking for cost-effective hand-painted dinnerware sets, choose Raylon Enterprise.