Containers for storing food are indispensable in our daily lives. Among them, due to their unique advantages, food glass storage containers with bamboo lids are becoming more and more popular among users. And, we will explain features, production process, wholesale and customization service of food storage containers.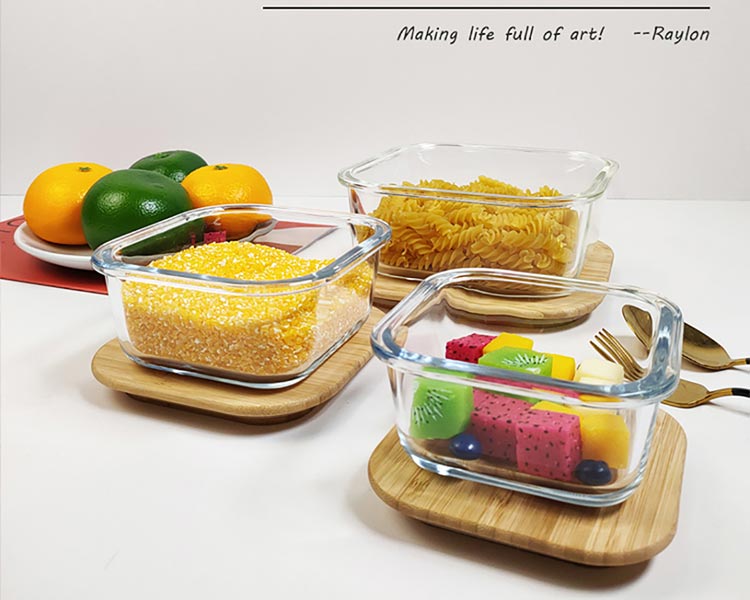 Advantages of Food Glass Storage Containers:
Environmentally friendly material: The bamboo-covered food glass storage container uses natural bamboo as the cover, which does not pollute the environment.
Heat and cold resistance: Glass has good heat resistance and cold resistance and can be used to store various foods, such as spices, jams, vegetables, etc., ensuring the freshness and original flavor of the food.
Sealing performance: The bamboo or wood lid is closely combined with the glass storage container and has good sealing performance, which can effectively prevent food from moisture, oxidation and contamination.
Reusable: Glass storage containers can be cleaned and used repeatedly. Just be careful to avoid sharp temperature changes after high-temperature sterilization to extend their service life.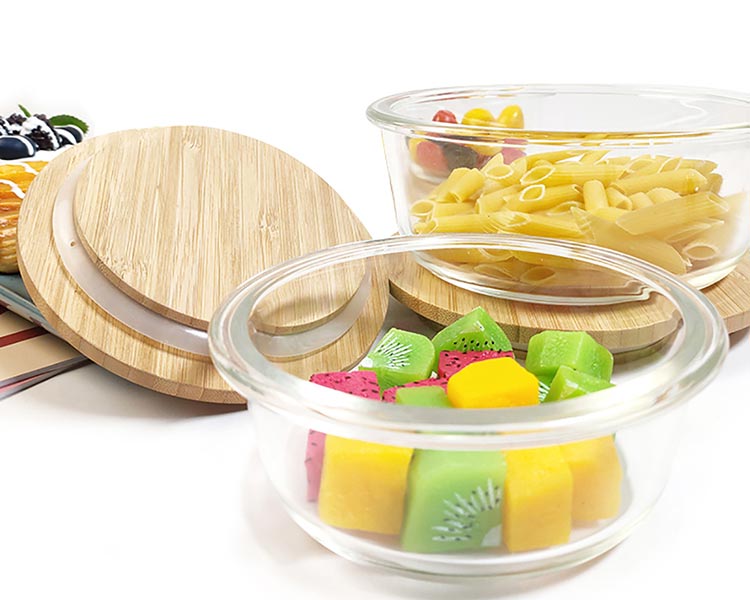 Production process:
1. The process of manufacturing glass jars starts with selecting high quality quartz sand, borax, soda and other raw materials. These raw materials are mixed in a certain proportion, and then an appropriate amount of auxiliary materials are added.
2. Melting: Pour the mixed raw materials into the high-temperature furnace and fuse. Through agitation, clarifying, cooling and other procedures, high quality glass with high transparency is produced.
3. Molding: Pour molten glass liquid into mold, remove after cooling, and obtain the desired shape of glass storage container.
4. Processing: Polishing, cleaning and drying of glass jars to ensure smooth surface and clear inside. In order to ensure the sealing performance, the bamboo wood lid is firmly combined with the glass storage container.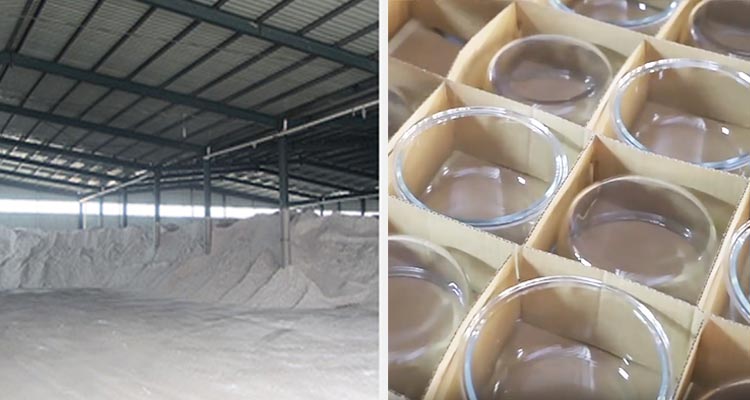 Wholesale & Customization Process:
As a reliable food glass storage containers manufacturer, Raylon will provide reasonable quotations and delivery times after understanding customer needs. In addition, we provide OEM services. In other words, customers first need to provide customization requirements, including size, shape, color, quantity and other information. We will customize production according to customer needs, complete production and ship within the specified time.
In short, food glass storage containers with bamboo wood lids have the advantages of environmental protection, durability, and good sealing. The quality is strictly controlled during the production process to ensure the reliability of the product. In terms of wholesale and customization, we always adhere to the principle of customer first and provide customers with high-quality services and products. If you have any needs, please feel free to contact us!