Raylon, a manufacturer of custom ceramic tableware, focuses on providing high-quality and personalized tableware solutions to customers. The beautiful tableware are not only practical but also a delight to the eyes. In this blog post, we'll delve into the world of ceramic dinner sets, exploring their classification, how to choose a manufacturer of custom ceramic tableware, and the customization process.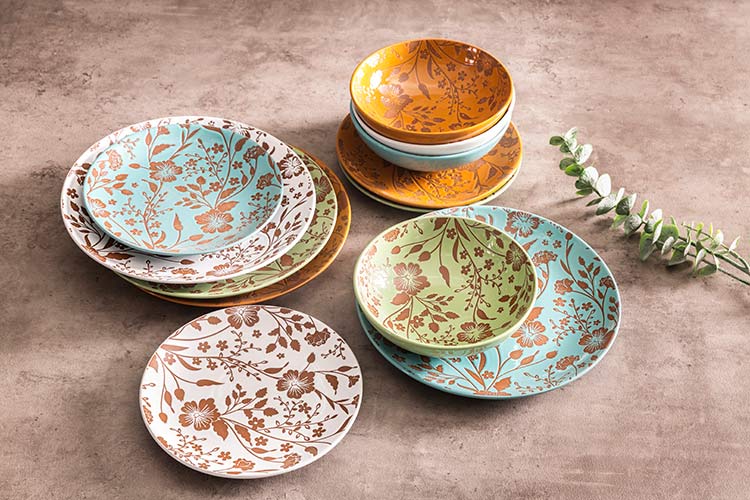 Description of Ceramic Dinnerware Sets
Ceramic dinnerware sets, also known as dinning sets, are a type of tableware products made of porcelain or stoneware as the main material. Among them, common components of tableware sets usually include plates, bowls, cups and cutlery, etc., and come in various shapes and sizes to suit different table arrangements and dining styles.
Durability, aesthetics, and hygiene is the advantages of ceramic dinnerware sets. Therefore, the ceramic dinner sets are suitable for both daily use and special occasions.
Classification of Ceramic Tableware:
Ceramic tableware can mainly be classified based on their materials and manufacturing processes.
The two main types of ceramic dinnerware are porcelain and stoneware. Porcelain is typically made from pure kaolinite clay and is highly translucent, with a smooth surface texture. It is more fragile than stoneware but is also more elegant and suitable for high-end tableware.
Stoneware dinnerware is fired at higher temperatures and has a more rustic appearance with a rougher surface texture. It is more durable than porcelain but also less expensive and suitable for daily use.
When choosing a ceramic dinnerware set, it's important to consider your needs and budget. If you're looking for something more formal and elegant, porcelain dinnerware may be a better choice.
However, if you're after something more practical and budget-friendly, you can choose stoneware dinnerware.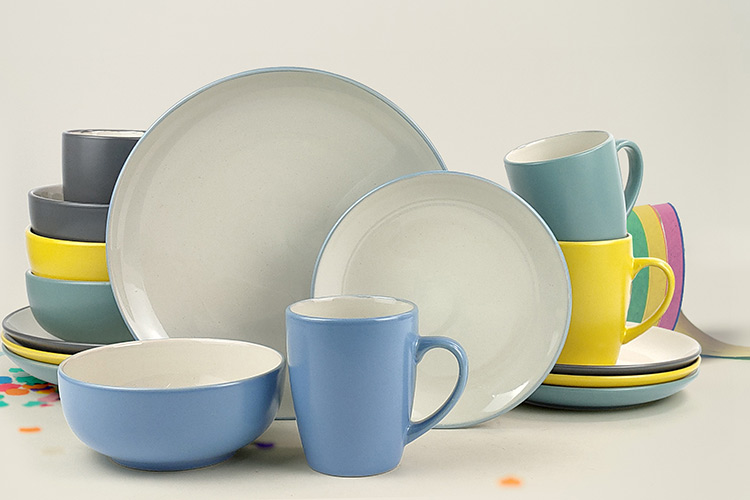 How to Choose a Manufacturer?
When choosing a reliable manufacturer of custom ceramic tableware, with experience in producing high-quality ceramic tableware. Here are some key points to consider:
1. Manufacturing Experience: Look for a manufacturer with years of experience in producing ceramic dinnerware. In addition, such a manufacturer will have mastered the art of porcelain manufacturing and will understand the importance of detail and quality control.
2. Materials Used: The quality of the clay and other materials used in the manufacturing process will determine the durability and appearance of the final product. Make sure to choose a manufacturer who uses high-quality materials.
3. Product Quality: Look for manufacturers who have passed international quality certifications such as ISO 9001. This will ensure that the manufacturer follows stringent quality standards and that the products meet your expectations.
4. Customer Service: A reliable manufacturer should provide excellent customer service before and after the purchase. They should be able to provide assistance with product selection, customization, and after-sales support.
5. Price: Price should not be the only factor to consider but an important one nonetheless. Choose a manufacturer who offers competitive prices without compromising on quality or service.
Customization Process
Raylon, as a Chinese manufacturer of custom ceramic tableware with more than 20 years experience, can provide end-to-end professional design-drawing-producing support to serve the customer's special needs.
Chinese manufacturers of custom ceramic tableware offer a range of high-quality products that meet specific needs and tastes. With their experience in porcelain manufacturing and competitive pricing, these manufacturers have become leaders in providing personalized ceramic tableware solutions worldwide