As a wholesale factory of custom ceramic mugs, Raylon integrates ceramic product design, development, production and sales into one.
Ceramic cups are very safe and healthy, then you don't have to worry about the possibility of ingesting harmful metals after long use. In this article, we explore the making process of custom ceramic mugs, provide tips and ideas for designing them, and discuss the process of creating a personalized mug. In addition, we'll introduce some types of ceramic mugs.
Video:
Making Process of Custom Ceramic Mugs:
1. Mug production: from clay to finished product
First, the mugs start their journey as raw clay. Skilled artisans shape and mold the clay into the desired mug forms, paying attention to every curve and detail. Once the shaping is complete, the mugs go through a firing process to strengthen and harden the clay, transforming it into ceramic.
2. Customized techniques
There are also various techniques that allow you to add your personal touch to the mugs. Printing, for example, can create intricate designs and vibrant colors, while embossing can create raised patterns or logos. If you're looking for a timeless and elegant touch, engraving can beautifully etch your desired text or artwork onto the mug's surface.
3. Quality control and inspection
Before delivery, we will do quality control and inspection processes. This ensures that each mug meets the highest standards and safeguards against any defects or imperfections. So, you can sip your coffee or tea with confidence, knowing that your customized ceramic mug has passed the quality test.
There are some types of ceramic mugs we want to share with you.
White porcelain mugs not only look clean and beautiful but also sport a smooth and glossy surface. Moreover, they can be printed with various patterns and colors, making them even more attractive. Furthermore, the handle was carefully designed to ensure that it was comfortable to hold and easy to use.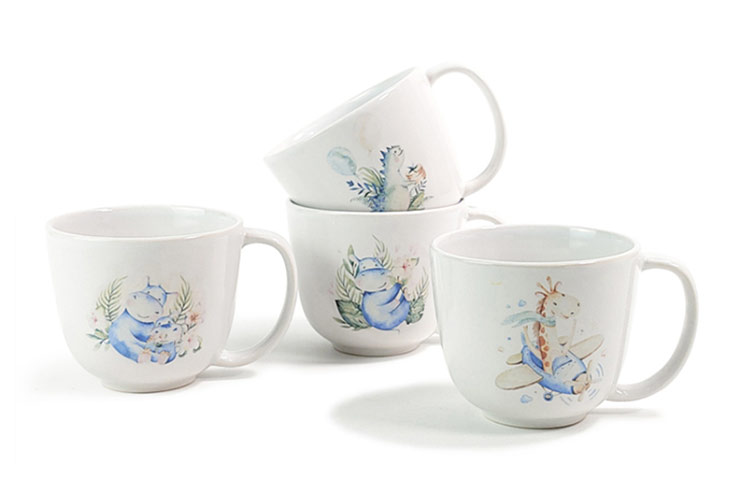 | | |
| --- | --- |
| Model No. | RLM-A2 |
| Size | 11cm X 9.2cm |
| Color | White |
| Package | 35.6*25.2*35.8cm (24pcs in loose pack) |
This kind of embossed stackable mugs are with embossed design. There are beautiful and unique embossed patterns or images on the surface, creating a luxurious and elegant appearance. Besides, their stackable nature allows for easy storage, saving space when not in use.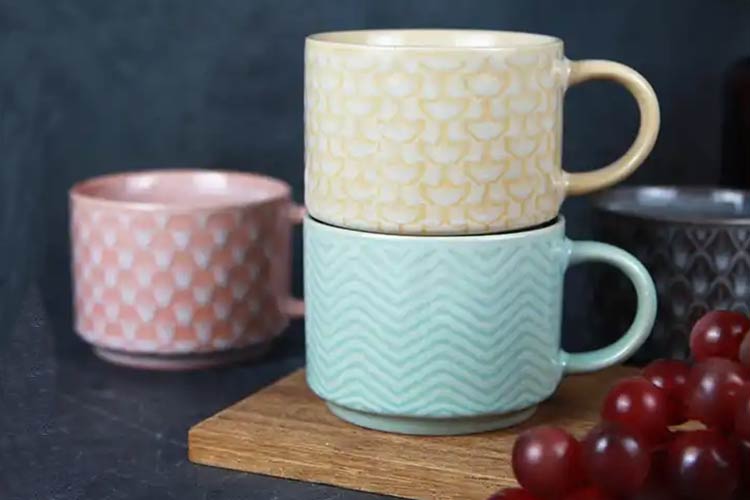 | | |
| --- | --- |
| Model No. | RLM0156 |
| Size | 8.8cm X 10.2cm |
| Color | Brown/Pink/Green/Yellow/Customized |
| Package | 46.5*24*33cm(8 pcs/carton) |
The reactive glaze finish reacts with the temperature and moisture, creating beautiful patterns and colors. Additionally, the mugs are often hand-painted, ensuring each one has a unique and individual look.
| | |
| --- | --- |
| Model No. | RLZ0059 |
| Size | 7.6cm X 9.5cm |
| Color | black/blue/customized |
| Package | 33.5*26*23(24pcs/carton) |
Raylon enterprise also provide other types of ceramic mugs. Custom ceramic mugs make excellent corporate gifts. We can customize with your company logos, slogans, or even individual names for a personalized touch.