Ceramic dishes have always been a popular choice for businesses and individuals. And now, with the rise of the custom ceramic dishes set bulk sale trend, more and more businesses purchase these dishes in large quantities at discounted rates. Here in this blog post, we'll not only take a look at everything you need to know about custom ceramic dishes sets, but also detail their production process, usage, and wholesale factory/supplier options.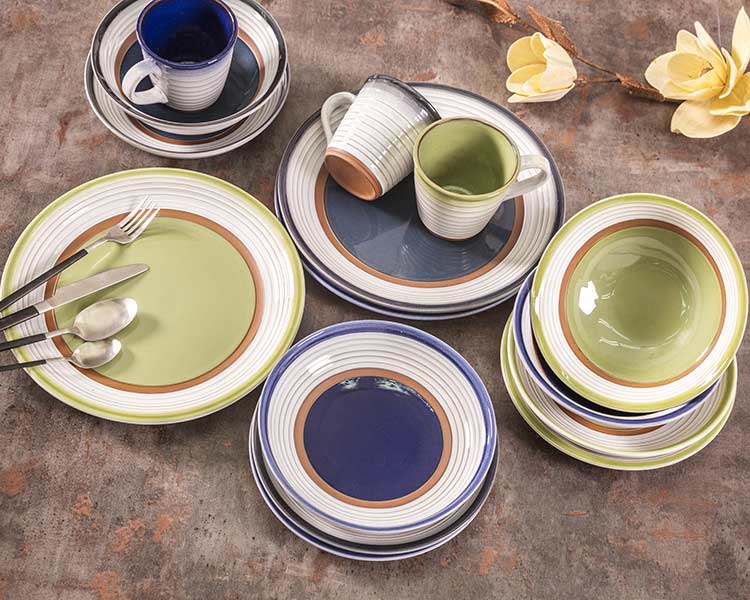 The Ceramic Dish Production Process
Ceramic tableware is typically made using a combination of natural clay, water, and minerals.
Mix the ingredients together to form a clay-like mass. After that, shape the clay into the desired disk shape, and undergoes a series of drying and firing processes.
After completing the firing, workers will proceed to the next step of processing, such as glazing, decals, electroplating, screen scraping, etc. And then, the final product is beautiful and durable tableware.
During the production process, it's important to consider several factors that can affect the quality and performance of the final product. For example, the type of clay used, the firing temperature, and the duration of drying and firing all play a role in determining the dish's durability, resistance to heat, and overall appearance.
Video:
Usage of Custom Ceramic Dishes Sets
Ceramic dishes sets are perfect for a variety of commercial and personal uses. Some common applications include:
⚪Restaurants and cafes:
In food service establishments to serve a wide range of food items, from appetizers and desserts to main courses and tableware.
⚪Corporate events:
Companies often purchase custom ceramic dishes sets for use during corporate events and gatherings, providing an opportunity to showcase their brand image.
⚪Weddings and special occasions:
Ceramic dishes make for a great gift or tableware option for weddings, birthdays, or other special occasions. They can also be used as centerpieces or part of the decorations.
⚪Hobbyists and collectors:
Many people enjoy collecting and using unique ceramic dishes sets as part of their collections, such as hobbyists and collectors.
Wholesale Factory/Supplier Options
There are several factors to consider when choosing a wholesale factory or supplier, for purchasing custom ceramic dishes sets in bulk. So here are some key points to keep in mind:
☆Product quality:
It's important to ensure the suplier can produce high-quality ceramic dishes. Therefore look for suppliers that use high-grade materials and follow strict production processes to ensure durability and aesthetics.
☆Variety of options:
A reliable supplier should offer a wide range of custom ceramic dishes sets to choose from. So it will allow you to find the perfect fit for your specific needs.
☆Competitive pricing:
Look for a supplier that offers competitive pricing on their products without sacrificing quality. It's worth comparing prices from different suppliers to ensure you're getting the best value for your money.
☆Customer service:
A good supplier should provide exceptional customer service, assisting with any questions or concerns you may have throughout the ordering process.
☆Company Reputation :
Check the reputation of potential suppliers by reading reviews and recommendations from other users. And this can help you determine their reliability, trustworthiness, and overall satisfaction level.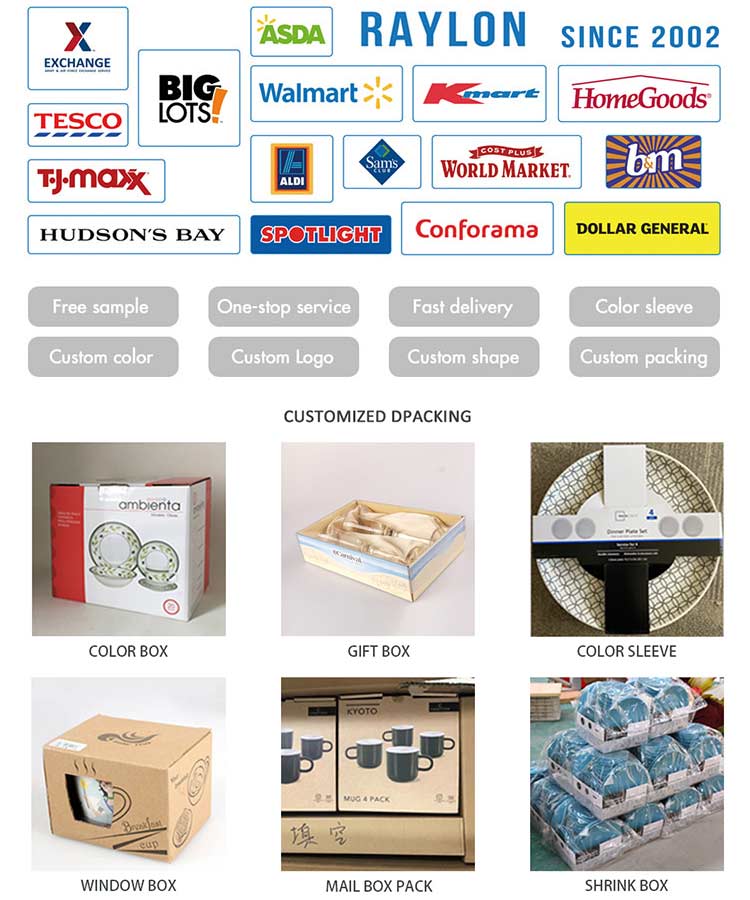 Among the many producers of custom ceramic dishes sets, our Raylon Enterprise factory stands out with its unique advantages.
Firstly, we have first-class production capabilities. With advanced equipment and rich experience, we are able to efficiently complete every link from design to production. A professional technical team and rigorous production processes ensure that our products meet or exceed customer expectations in terms of quality and output.
Secondly, our technical strength is beyond doubt. Years of R&D experience have given us unique professional knowledge and skills in ceramic material selection, product design, and production technology. We are committed to integrating the latest technology into product design to provide customers with more innovative and practical customized tableware sets.
Furthermore, we focus on product quality control. Every link has strict quality control standards. From the procurement of raw materials to the delivery of finished products, we always adhere to meticulous quality inspections. High quality is our commitment to every customer and the cornerstone of our market reputation.
In addition, our customization services are also well received. It is our basic responsibility to understand the needs of each customer. We will provide professional suggestions and solutions based on the customer's personalized needs, and strive to allow every customer to enjoy a satisfactory customized experience.