The pumpkin cast iron pot sets are made of high-quality material, which ensures its durability and longevity. In this article, we will show details of factory strength, customization ability and after-sales services.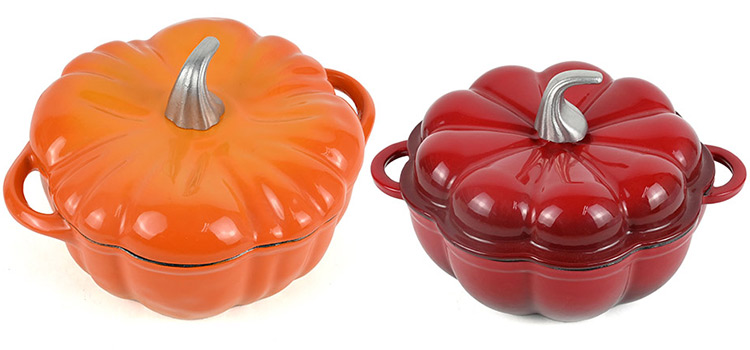 Factory Strength of Pumpkin Cast Iron Pot:
The Pumpkin Pot Factory is a professional manufacturer of cast iron pots with rich production experience and advanced production technology.
Our factory can produce cast iron pots with high market competitiveness, due to the large-scale production base and advanced production equipment.
Secondly, the factory has a complete quality inspection system and advanced testing equipment to further ensure the quality of the finished products.
Besides, the factory also has a strong R&D team and after-sales service team, providing customers with quality services.
Customization Ability of Pumpkin Pot Sets Factory:
Our factory can customize different sizes and specifications of cast iron pumpkin pots according to customer requirements. We can also continuously improve product quality and performance. Meanwhile, we provide customers with professional technical guidance and advice, helping customers better understand the product and use it safely.
After-sales Service of cast iron pot factory:
The Cast iron Pot Sets factory attaches great importance to after-sales service. The after-sales services include product consultation, technical guidance, maintenance and repair, replacement and return, etc.
If any problems occur, customers can contact us at any time to get immediate response and solution support.
In addition, the factory also regularly collects customer evaluation feedback, understands customer needs and satisfaction, in order to continuously improv product quality and service quality.

Raylon Enterprise is a professional Chinese factory of pumpkin cast iron pot sets. With strong strength, advanced production technology and perfect after-sales service, Raylon has a good reputation in the cast iron pot industry. And, for over 20 years, Raylon's product is well-known for more than 50 countries.