Welcome to our comprehensive guide on the wholesale cast iron enamel dutch oven with self-basting lid. In this article, we will explain the details and advantages of enamel cast iron dutch oven. If you're in the market for an efficient, high-quality dutch oven that will last a lifetime, this is the perfect choice for you.
Description of Enamel Cast Iron Dutch Oven
The enamel cast iron Dutch oven with self-basting lid is a kitchen essential that every cook needs. The pot is made from high-grade cast iron, ensuring durability and longevity, while the inside is coated with a high-quality enamel finish for extra protection and easy cleanup. The self-basting lid design seals in moisture and flavor, perfect for browning food to create a delicious, even sear. The size of the Dutch oven is large enough to cook a meal for the family or for batch cooking to stock up the freezer.
Video:
Advantages of Wholesale Cast Iron Enamel Dutch Oven:
1. Self-Basting Lid
One of the standout features of this Dutch oven is its self-basting lid. Additionally, designed to trap steam inside the pot, it seals in all the natural juices and flavors, basting the food as it cooks. This means juicier, more flavorful meats, vegetables, and other dishes with less chance of drying out.
2. Enamel Coating
The enamel coating not only adds a touch of style to the Dutch oven, but it also protects the cast iron from rust and chipping. The smooth surface is easy to clean and maintain, too. It releases food effortlessly while resisting sticking and burning, taking your cooking experience to new heights.
3. High-Temperature Resistance
This enamel cast iron Dutch oven not only can tolerate high temperatures, but it is also safe to use on all types of stoves, including induction cooktops. Additionally, it can even go from the stove top to the oven seamlessly, providing a hassle-free cooking experience.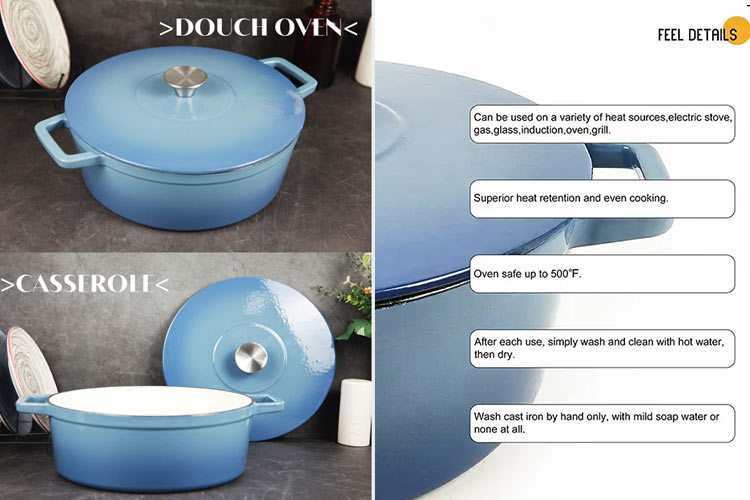 Wholesale Supplier of Enamel Cast Iron Dutch Oven:
We Raylon Enterprise, with more than 20 years of manufacturing and exporting experiences, can provide high-quality cookware products at competitive prices. Raylon specialize in providing businesses and individuals seeking value for money with a range of kitchen essentials. With regular discounts and bulk purchase options, it's never been easier or more cost-effective to stock up on this essential kitchenware item.
Whether you're a wholesale distributor, a shop owner or a trading company boss, the enamel cast iron dutch oven with self-basting lid is a good choice. It's a reliable, long-lasting dutch oven that will take your culinary creations to new heights.