The safety and hygiene of ceramic tableware is related to our health. Sometimes the tableware will produce certain taste and stains after a long-time using. In this article, we will show you some ways to remove the stains.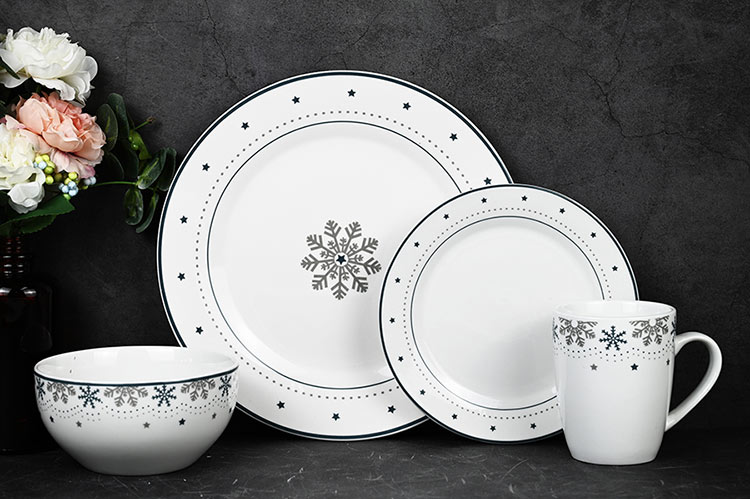 Ways to Remove the Stains on Ceramic Tableware:
1.Pour the remaining food into the trash or waste bin, and then rinse it with water, so that we can remove the food residue on the tableware easily.
2.Scrub oil stains or dirt on ceramic tableware.
Its steps and requirements:
1) Use hot water around 45°C; Add detergent;
2) Soak the tableware in water for 1-2 minutes;
3) Scrub the surface of the utensils carefully;
Choose a soft cloth to scrub the surface of tableware gently, instead of using a brush with steel wires.
3. Dishwashing detergent must be a qualified product approved by the health administrative department, and washing powder cannot be used to wash tableware.
4.Remove any detergent residue from the dishes. Place the washed tableware in clean water, it is best to use running water to remove the residual detergent on the tableware.
In addition, there are some useful ways to remove the peculiar smell, such as soaking the ceramic tableware in milk, scrubbing waste tea leaves or soaking in salt water.
Furthermore, you can also wash the ceramic tableware with detergent first, then put fresh orange peel or lemon peel or vinegar in the tableware and cover it. Rinsing the lid after 3 to 4 hours is also helpful for removing the smell.
Established in 2002, raylon enterprise has been recognized as a reliable ceramic tableware supplier and exporter, attaching great importance to craftsmanship and integrity in tableware design and manufacturing. We use high-quality raw materials and craftsmanship to manufacture high-end tableware to ensure product quality and service life.