As a Chinese supplier with more than 20 years experiences, Raylon provide OEM services for lightweight cast iron casserole. The light cast iron casserole is die-casted by the traditional semi-automatic die-casting process, and then polished by a grinding wheel into a cast iron casserole with a thickness between 1.8mm and 3mm.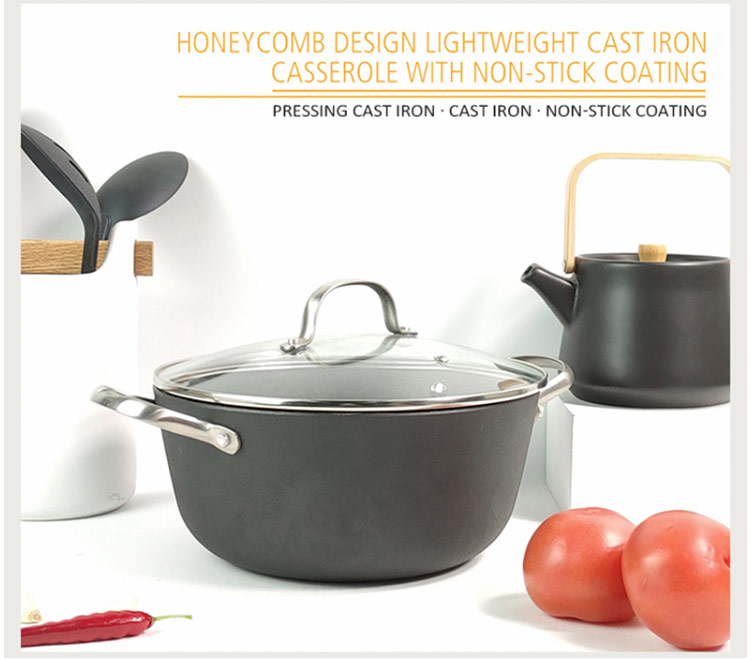 Amazing advantages of a lightweight cast iron casserole:
⚪It's lightweight, so you won't strain your arm schlepping it around the kitchen. But don't be fooled by its weight - this bad boy is still super sturdy and built to last. It retains heat like a pro, evenly distributing it throughout your food for that perfect cook every time.
⚪It's ultra-versatile. You can use it on any stovetop (yes, even induction) and pop it in the oven without a worry.
⚪It's naturally non-stick! No need for heaps of oil or endless scrubbing afterward. Whether you're making soup or slow-cooking a hearty stew, this light cast iron casserole has got your back.
Raylon, as a professional OEM supplier of lightweight cast iron casserole, offers a comprehensive solution for our clients.
Customized design
With a quality cookware supplier, you can enjoy a customized service. Customized logo, color, design, packing accepted.
Comprehensive service
Raylon owns an excellent team to provide end-to-end Professional Design-drawing-producing support, such as communication of needs, product design, inspection, performance testing, package and delivery, etc.
Building Trust and Long-Term Relationships
With a reliable supplier, you can expect consistent quality, prompt communication, and the assurance that they have your best interests at heart.